---
Best Available Technique (BAT) of Emission Reduction by Air Quality Control Devices Application
I. Old Coal Fired Steam Power Plant (CFSPP) vs Jawa 9&10 CFSPP
Note: * Source: ESIA Report Jawa 9&10 USC CFSPP, 2019
II. Air Pollution Control Devices
As the commitment to meet the emission standards (both Indonesia and International standard), Jawa 9&10 CFSPP will apply the best available technology (BAT) of air pollution control devices, as follows:
ESP (Electrostatic Precipitator), to remove particulate
FGD (Flue Gas Desulphurization ), to remove SO2
SCR (Selective Catalytic Reactor), to remove NO2
Low NOx burner, to remove NO2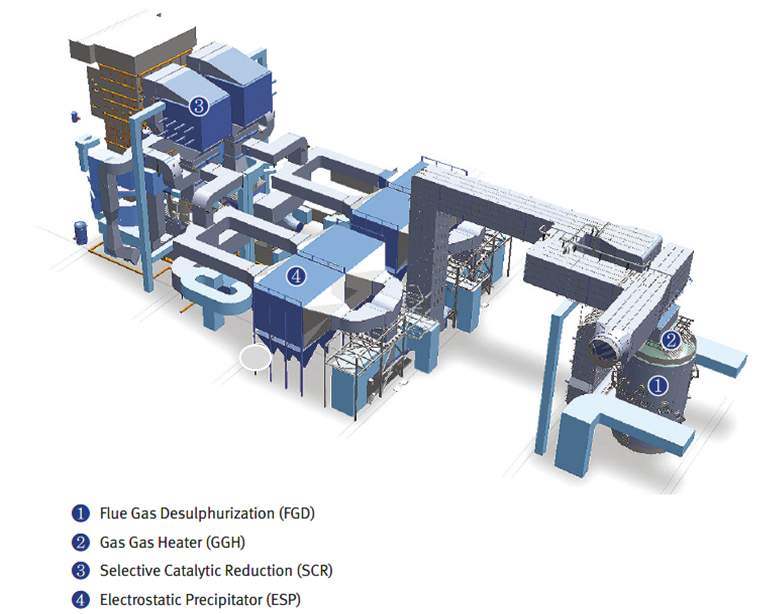 SO2 Reduction
To reduce SO2 emissions or Sulphur Dioxide by more than 95%, a typical of Flue-Gas Desulphurisation (FGD) system will be installed.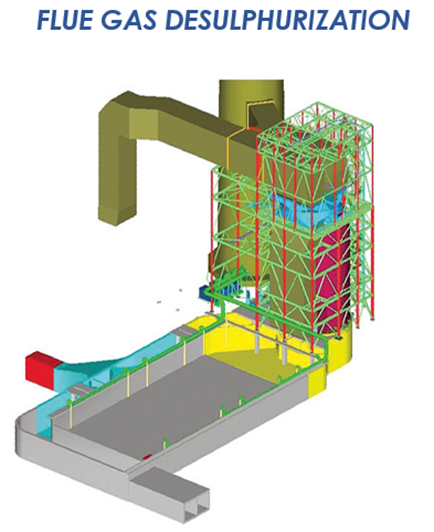 NO2 Reduction
The Steam Generator will be equipped with a post combustion NO2 reduction system based on selective catalytic reduction (SCR) using anhydrous ammonia (>99.5 %) as a reducing agent in order to reduce the NO2 emissions to comply with the guaranteed emission limits for Nitrogen-oxides.  In the application, SCR will be combined with Low NOx burners (LNB).
The use of SCR is also considered in the industry to be the Best Available Technique (BAT) for reducing NO2 emissions from the combustion of coal.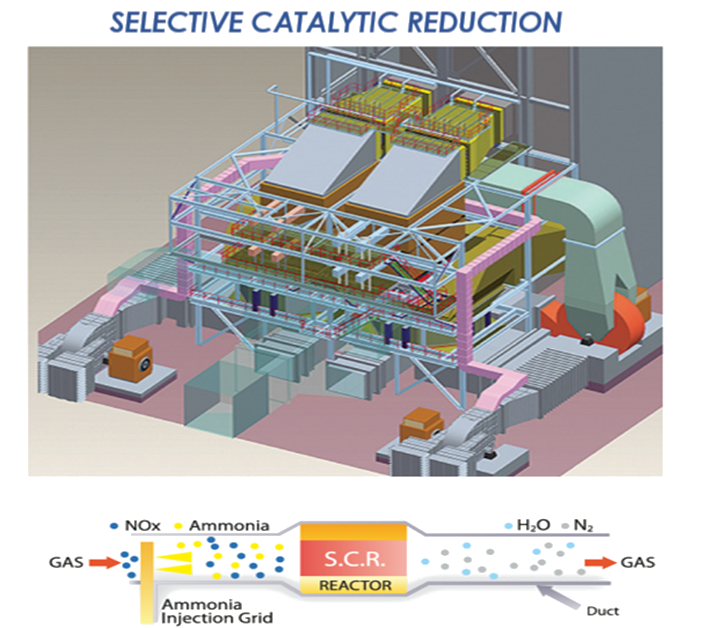 Advance Low NOx Burner ( Reduce NOx emission )
Advance D-NOx burner is specifically designed for two-stage combustion offering reduced combustion zone stoichiometry and controlled swirl for enhanced fuel / air mixing and optimised combustion performance.

Source: Doosan Heavy Industry, Note: This drawing is only for illustration
Particulate Reduction
Electro Static Precipitator (ESP) will be installed to capture the particulate with high efficiency (> 99.5%) by trapping fine dust particles with high voltage electricity.  ESP mechanism:
The exhaust gas will be passed through the formed electric field between the discharge electrode and the collector plate. The flue gas containing particulate is initially neutral and when it passes through the electric field, the dust particles will be ionized so that the dust particles become negatively charged (-). The dust particles which are now negatively charged (-) then will be attached to the collector plates.
The dust collected on the collector plate is removed periodically from the collector plate with of a vibration (rapping). This dust then falls into the ash hopper.

Source: Indonesia Power Note: This drawing is only for illustration
III. Comparison of Emission Air Concentration
Jawa 9&10 USC CFSPP Emission may be reduced below any other fossil-fuel power plants standard in Indonesia                                                                                              (all number is normalized to 7% O2, 25° C, 1 atm)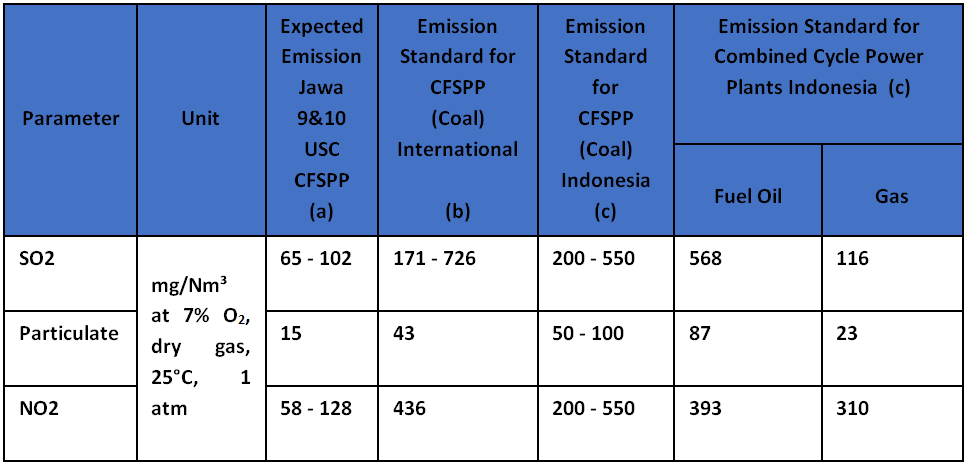 IV. Greenhouse Gas Emissions Intensity
Comparison of Emissions Intensity based on Electricity Generated Coal Power Stations
Greenhouse Gas Emission
From the ESIA assessment, the CO2e emission intensity of Jawa 9&10 CFSPP is expected :
8.9% lower than the average emission intensity associated with the existing main electricity grid in Indonesia for (2016);
0.6% lower than the average emission intensity for ultra-super critical black coal power stations operating ;
The Project's emission intensity is also lower than the rest of the emission intensities, including the 2014s average emission intensity of the US power generation sector (coal generation only), as well as coal power stations operating in Vietnam and Australia.