IRT aims to be the pioneer of coal-fired steam power plant in Indonesia which apply the most advanced air pollution control devices to remove pollutants from the flue gas before emitted to the environment by operating the combination of Low NOx Burner, SCR, ESP, and FGD.
Old Coal Fired Steam Power Plant (CFSPP) vs Jawa 9&10 CFSPP
Air Pollution Control Devices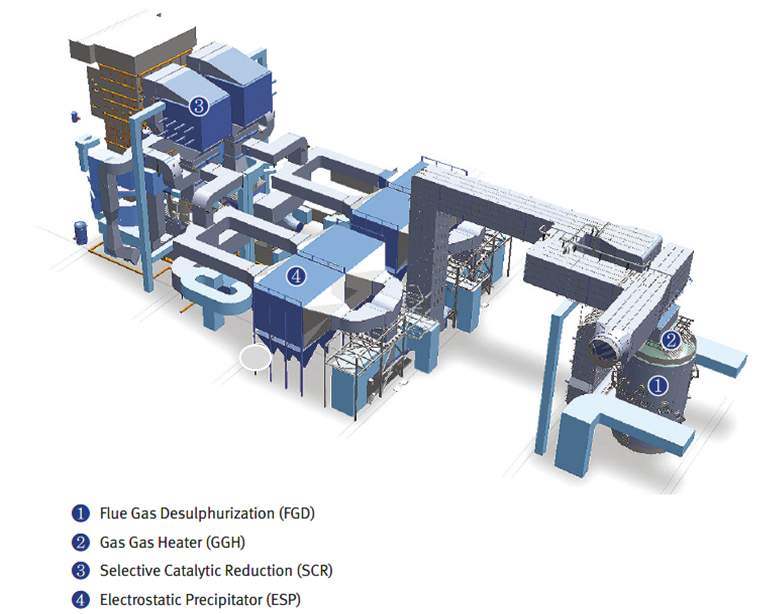 Source: Doosan Heavy Industries
Air Pollution Control Devices
As the commitment to meet the emission standards (both Indonesia and International standard), Jawa 9&10 CFSPP will apply the best available technology (BAT) of air pollution control devices.
| | |
| --- | --- |
| Air Pollution Control Device | Parameter Removal |
| ESP | Particulate |
| FGD | SO2 |
| SCR | NOx |
| Low NOx Burner | NOx |
| | | | |
| --- | --- | --- | --- |
| | | | |
| FGD functions to reduce Sulphur dioxide (SO2) emissions by more than 95%. | ESP will be installed to capture the particulate with high efficiency (> 99.5%) by trapping fine dust particles with high voltage electricity. | SCR utilizes anhydrous ammonia (>99.5 %) as a reducing agent to lower the NO2 emissions. In the application, SCR will be combined with Low NOx burners. The use of SCR is considered in the industry to be the BAT for reducing NO2 emissions from the coal combustion. | Advance D-NOx burner is specifically designed for two-stage combustion offering reduced combustion zone stoichiometry and controlled swirl for enhanced fuel/air mixing and optimized combustion performance. |
Comparison of Emission Air Concentration
Jawa 9&10 USC CFSPP Emission may be reduced below any other fossil-fuel power plants standard in Indonesia.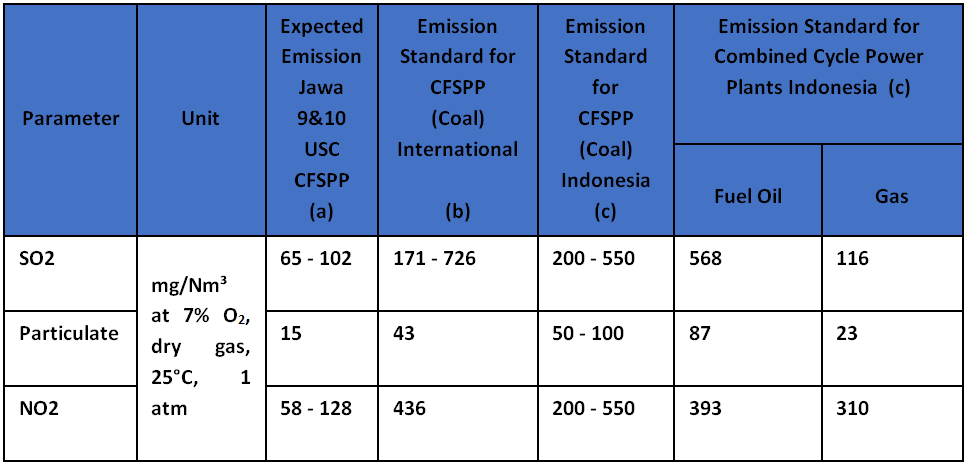 Notes:

(a) Depend on coal composition

(b) IFC EHS Thermal Power (2008) Standard

(c) Indonesia Ministry of Environment and Forestry Regulation No. 15 Year 2019: Emission Air Standard for Thermal Power Plant (Attachment I & II)
Greenhouse Gas Emissions Intensity
From the ESIA assessment, the CO2e emission intensity of Jawa 9&10 CFSPP is expected :

8.9% lower than the average emission intensity associated with the existing main electricity grid in Indonesia in 2016;
0.6% lower than the average emission intensity for ultra-super critical black coal power stations operating; and
lower than the rest of the emission intensities, including the 2014s average emission intensity of the US power generation sector (coal generation only), as well as coal power stations operating in Vietnam and Australia.

Source: IRT ESIA, 2019