Jawa 9&10 USC CFSPP Prepares SCR Technology With Green Ammonia To Minimize Emissions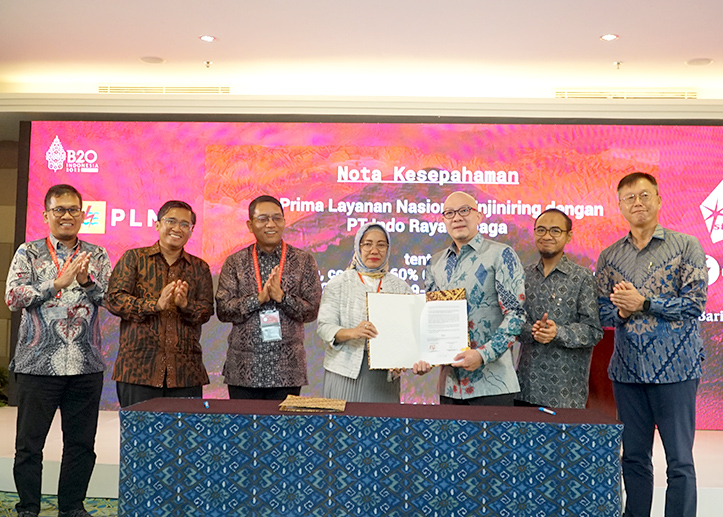 Background:

Indonesia is promoting renewable energy transition.

If managed correctly and sourced sustainably, green, and blue ammonia may be part of the renewable energy transition roadmap as clean alternative energy or co-firing source for coal steam power plants.

Latar Belakang:

Indonesia sedang mempromosikan transisi energi terbarukan.

Apabila pengelolaan dan keberlangsungan sumbernya tersedia, maka amoia biru dan hijau dapat menjadi salah satu bagian dari perjalanan menuju transisi energi terbarukan, sebagai sumber energi bersih alternatif bagi pembangkit tenaga uap batu bara.

When ammonia is burned in steam boiler, it will leave no carbon footprint but unavoidably emit greenhouse gas called nitrogen oxides.
Pembakaran ammonia di dalam tungku uap tidak akan menghasilkan emisi karbon, namun pembakaran tersebut tetap mengeluarkan emisi gas rumah kaca berupa nitrogen oksida
As an answer, Selective Catalytic Reduction is a proven technology for reducing of nitrogen oxides and nitrogen dioxide by converting the molecules into pure water and harmless nitrogen.

Utilizing Selective Catalytic Reduction in coal steam power plant together with a low Nox burner will dramatically reduce nitrogen oxide and nitrogen dioxide emission and therefore will open an opportunity to co-firing significantly more green ammonia than of coal in coal steam power plants.

Sebagai jawabannya, Selective Catalytic Reduction adalah teknologi yang sudah terbukti untuk menurunkan nitrogen oksida dan nitrogen dioksida dengan mengkonversikan molekulnya menjadi air dan nitrogen bebas.

Dengan menggunakan Selective Catalytic Reduction pada pembangkit tenaga uap batu bara bersamaan dengan low Nox burner akan secara siknifikan menurunkan kadar nitrogen oksida dan nitrogen dioksida dan oleh karena itu akan membuka kemungkinan co-firing jauh lebih banyak amonia hijau dibandingkan batu bara di dalam pembangkit tenaga uap batu bara.

The MOU:

Jawa 9 & 10 is an award-winning OECD-made Ultra Super Critical Power Plant for being the only and most complete emission-controlled power producer in Indonesia by installing Flue Gas Desulfurization, Electro-Static Precipitator, Low NOx burner and Selective Catalytic Reduction.

Nota Kesepahaman:

Jawa 9 & 10 adalah pembangkit Ultra Super Critical peraih penghargaan sebagai satu-satunya pembangkit di Indonesia yang memasang peralatan pengontrol emisi terlengkap dengan adanya Flue Gas Desulfurization, Electro-Static Precipitator, Low NOx burner dan Selective Catalytic Reduction.

Being the only Power Plant in Indonesia to be equipped with Selective Catalytic Reduction, Jawa 9 & 10 is conducting a joint study with PLN Engineering for co-firing of 60% green ammonia with 40% coal.

Jawa 9 & 10 will be ready for significant co-firing of green ammonia when and if PLN direction towards this alternative fuel source is available in the future.

Sebagai pembangkit satu-satunya di Indonesia yang sedang dilengkapi dengan Selective Catalytic Reduction, Jawa 9 & 10 melakukan studi bersama dengan PLNE dalam rangka kemugkinan co-firing 60% amonia hijau dengan 40% batu bara.

Jawa 9 &10 nantinya akan siap untuk co-firing amonia hijau yang siknifikan pada saat dan jika arahan PLN tentang sumber bahan bakar alterrnatif tersebut tersedia di masa mendatang.

About Jawa 9 & 10:

Jawa 9 & 10 is project-financed internationally since November 2020 and is sponsored 51% by PLN Indonesia Power group, 34% by Barito Pacific group, and 15% by Kepco group.

This BOOT project is made bankable under a 25-year PPA that requires no government guarantees. By October 2022, Jawa 9 & 10 is at 81% EPC stage and is expected to be commissioned by the last quarter of 2024 and COD by second quarter of 2025

Tentang Jawa 9 &10:

Jawa 9 & 10 didanai dengan skema project finance sejak November 2020 dan disponsori 51% oleh grup PLN Indonesia Power, 34% oleh grup Barito Pacific, dan 15% oleh grup Kepco.

Proyek BOOT ini dibuat bankable lewat PPA 25 tahun yang tidak memerlukan jaminan pemerintah. Pada bulan Oktober 2022, Jawa 9 & 10 sudah mencapai tingkat EPC 81% dan diharap akan komisioning pada kwartal terakhir tahun 2024 dan akan COD di kwartal kedua tahun 2025.