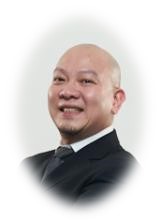 Pak Peter Wijaya
President Director
Peter has been a member of BOD of the Company since its inception and appointed President Director in 3rd Quarter 2020. Peter attained his experience in energy business since 2005 by managing strategic matters in energy companies (such as Santos Australia, Star Energy Oil & Gas and Star Energy Geothermal) as a direct report to CEO. For nine years in his earlier career, Peter worked at Big Four firms (such as Coopers & Lybrand [now PwC] and KPMG) where he managed teams of professionals who provided consultancy and audit services to multi-national / multi-industry clients.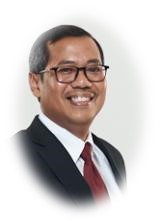 Pak Sapto Aji
Vice-President Director
Sapto Aji Nugroho has more than 24 years of experience working in power generation, within PLN and PT Indonesia Power (IP). He started in PLN in early 1994, as Operator of Suralaya SPP 1600 MW, and in 1997 he transferred to IP as Supervisor and Manager at Suralaya Power Plant. In 2008 he transferred to PLN as Project Manager at Labuan Power Plant, and then back to IP as Deputy General Manager at Suralaya SPP in 2012. In early 2015, he transferred to the IP Head Office as Head of Engineering Division. In early 2017, he transferred to PT Indo Raya Tenaga as President Director to develop the Jawa 9-10 Power Plant project until June 2020.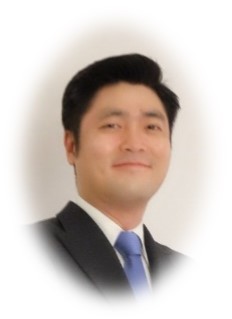 Pak Jonny Karli
Director
With over 20 years of experience in the Power, Energy, Oil & Gas, and Petrochemical Industries, Jonny has successfully developed, acquired, and financed several large-scale projects. During his time with Singapore Power, Jonny was responsible for the development of strategic greenfield power projects in Asia, and the acquisition of transmission & distribution businesses in Australia, as well as arranging for the related project financing. After joining Barito Pacific Group, he was tasked to lead the development & management of the groups' new Oil & Gas concessions in Indonesia.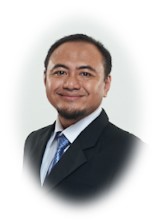 Pak Yudianto (Yudi) Permono
Director
Yudi has more than 16 years of experience working in Indonesia IPP projects, starting from PT Indonesia Power (IP) in early 2002. He has been Operator of Suralaya SPP 3400 MW, manager to several IPP – IP's subsidiaries (PT Indo Medco Power, PT Indo Ridlatama Power), power plant development manager, and starting 2012 Director to PT Rajamandala Electric Power. In early 2018, he transferred to PT Indo Raya Tenaga as Director to develop the Jawa 9-10 Power Plant project.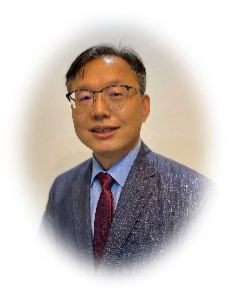 Pak Jinyoung Jeong
Director
Jinyoung has worked for 24 years in Korea Electric Power corporation (KEPCO) with experience of construction, O&M and IPP project development. He worked at the construction offices named DongHae CFBC TPP (200MW x 2), YoungHeung #1,2 TPP (800MW x 2) and YoungHeung #3,4 TPP (870MW x 2) as engineer, supervisor and manager in Korea. Since 2009, he has been involved overseas business and achieve the result of winning the IPP project (Norte II 433MW CCPP, Mexico) in 2010. Jinyoung also worked at the overseas sites named Ilijan CCPP (600MW x 2 blk, Philippines) and Egbin TPP (220MW x 6, Nigeria) as a general manager for 6 years.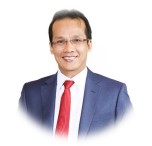 Pak Moch Choirul
Director
Pak Choirul has more than 30 years of experience working in Accounting & Assurance, within PLN and PT Indonesia Power (IP). Starting in 1987 in PLN – Tanjung Perak Plant Surabaya in accounting, Accounting Manager in several IP's subsidiaries and in Sept 2015 transferred to IP as Vice President of Accounting and Assurance. In July 2019, he transferred to PT Indo Raya Tenaga as Director to the Jawa 9-10 Power Plant project.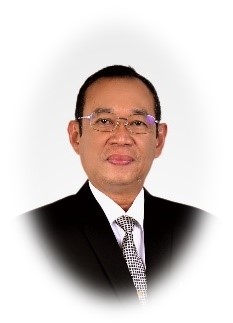 Pak Stephanus (Steve) Adrianto
General Manager – Development Project
With more than 30 years' extensive experience and training in various E&C project execution, Steve is an expert at Project Management, and has been appointed and positioned as Senior Manager of Engineering and Development Project, Project Director and Project Advisor to many companies. Since 2017, Steve has been assigned to PT Indo Raya Tenaga, as General Manager Development Project of Jawa 9-10 Power Plant project.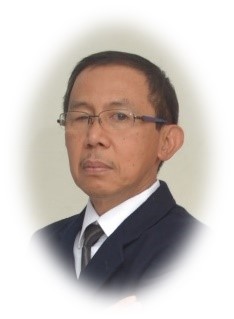 Pak Firman Bachtiar
Vice President – Procurement & Business
Firman has more than 25 years of experience in procurement and risk management. He was Procurement Officer in Marathon Petroleum, and Procurement Team Leader in Gulf Indonesia Resources, where he managed projects for onshore South Sumatra and offshore Natuna Sea block. In 2008 he joined Star Energy group as procurement advisor, where he managed a project team to revise the T&C of various contracts. He then changed to a risk management role in 2010, where he managed asset insurances including insurance claim handling, risk assessment, and risk mitigation for geothermal and oil & gas projects.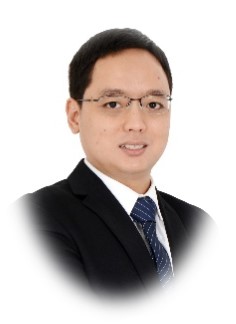 Pak Rizky Kurniawan
Vice President – Finance, HR , GA & IT
Rizky has more than 12 years of experience in the finance industry. He started his career at Bank Mandiri, Indonesia's largest bank asset. In 2010, he joined Star Energy Geothermal, Indonesia's leading geothermal energy producer, where he worked on several key corporate finance transactions. In 2016, he joined Hitay Energy Holdings, a prominent Turkish group, to assist Hitay on the development of geothermal concession area in West Sumatra. He re-joined Barito Group in 2017 as Senior Manager of Planning & Corporate Financing in PT Indo Raya Tenaga.