---
PLTU Jawa Unit 9 & 10 adopts the latest advanced technology, Ultra Super Critical (USC) with a capacity of 2 x 1,000 MW. This technology minimizes the emission towards the environment by incorporating better gas management system and steam condition. With a more efficient heat distribution, coal consumption can be lowered, which in turn will reduce the emission level.
Implementing the internationally acknowledged IFC Performance Standards on Environmental and Social Sustainability, the management of site environment and social aspect continues to pay attention to the protection of the livelihood of the surrounding community.
Both units will be equipped with all necessary systems to allow operation within the emission limits over the entire range of specified fuels. Thus, all the process, complies with the relevant international IFC regulation. This represents in all parts of main technology.
To reduce emission and preserve the environment, the CFSPP Java 9-10 equipped by USC boilers and other the latest technology included:
Advance Low NOx Burner ( Reduce NOx emission )
Electrostatic Precipitator (ESP) ( Capture particle )
Flue Gas Desulphurization (FGD) ( Reduce sulphur )
SCR – Technology And Installation Selective Catalytic Reduction
Advance Low NOx Burner ( Reduce NOx emission )
Advance D-NOx burner is specifically designed for two-stage combustion offering reduced combustion zone stoichiometry and controlled swirl for enhanced fuel / air mixing and optimised combustion performance.
Electrostatic Precipitator (ESP) ( Capture particle )
The electrostatic precipitator (ESP) consist of a number sections, each of which contains a series of fields with alternating parallel lanes of discharge frames and collecting plates. Rapping devices strike periodically base of each collecting plate and dislodge dust particles, after which they will be collected in hoppers. The high voltage equipment of the ESP will be arranged and be of sufficient capacity so that the plant may be operated without significant loss of efficiency with one high voltage set completely isolated.
Flue Gas Desulphurization (FGD) ( Reduce sulphur )
Principle
• Seawater FGD process utilizes
seawater as a "sorbent"
• Because seawater is alkaline, it
has substantial capacity to
neutralize acids like sulphur
dioxide (SO 2).
• The absorbed SO 2 sulphur
dioxide is oxidized to sulphate
ion (SO 4 2-), which is harmless
to environment
SCR – TECHNOLOGY AND INSTALLATION SELECTIVE CATALYTIC REDUCTION
(Selective Catalytic Reduction)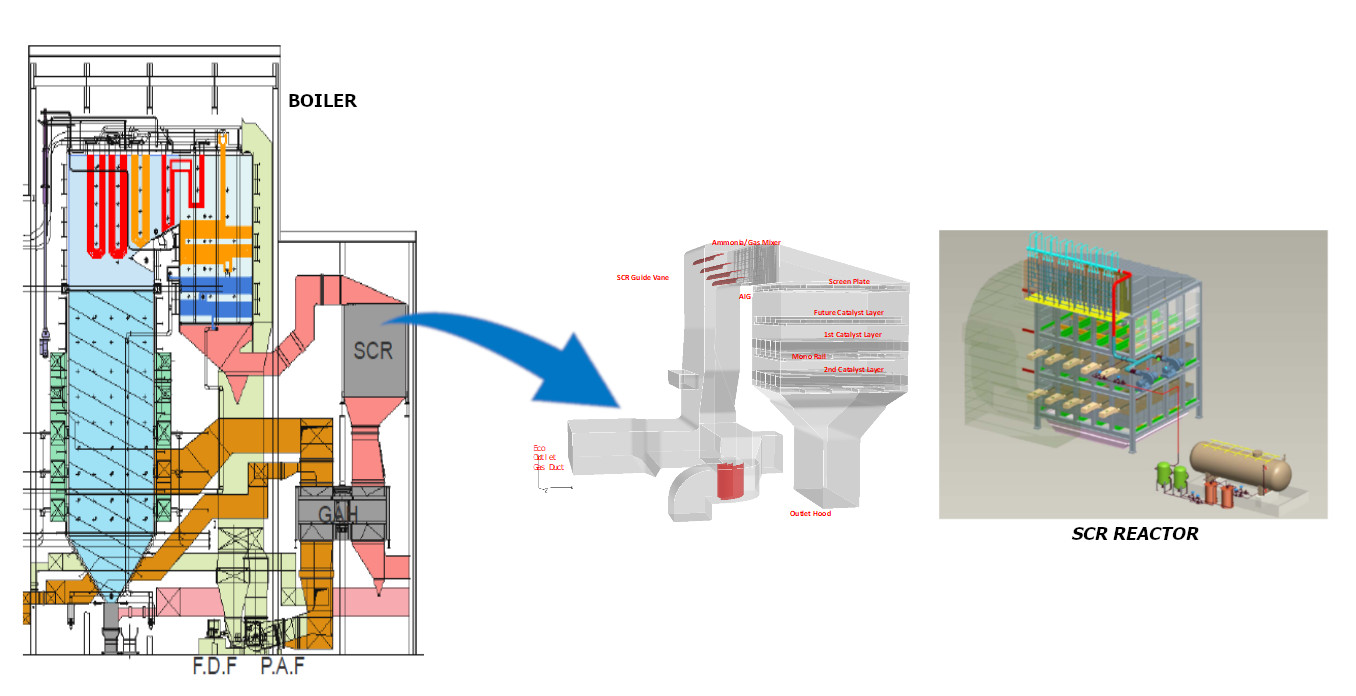 This Power Plant is equipped with SCR installation, SCR technology processes chemically to reduce the discharge emission of NOx by processing NOx molecule into molecular nitrogen and water vapor which will result and provide more friendly to environmental.
In the SCR reactor, an amount of nitrogen based reagent is injected into the ductwork, downstream of the combustion unit. The waste gas product from Boiler furnace mixes with the reagent and enters a reactor module containing catalyst. The hot flue gas and reagent diffuse through the catalyst. The reagent reacts selectively with the NOx within a specific temperature range and in the presence of the catalyst and oxygen.
Temperature condition, the amount of reducing agent, injection grid design and catalyst activity are the main factors that determine the actual NOX removal efficiency. The use of a catalyst results in two primary advantages : higher NOx control efficiency and reactions within a lower and broader temperature range.
In the application, SCR can be used separately or in combination with other NOx combustion control technologies such as low NOx burners (LNB).