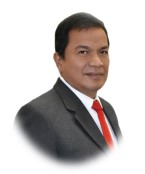 Pak Tisna Gunawan
President Commissioner
Tisna Gunawan has over 28 years of experience in the Power Industry through serving various positions within the PLN Group.  His last position in PLN is as Executive Vice President of General Affairs in the Human Capital Management Directorate.
Pak Prajogo Pangestu
Commissioner
Prajogo Pangestu, founder of Barito Pacific Group, has served as President Commissioner of PT Barito Pacific Tbk since 1993. Previously, he served as President Commissioner of PT Tri Polyta Indonesia Tbk from 1999 to 2010, Board of Commissioners of PT Astra International Tbk from 1993 to 1998, President Director of PT Chandra Asri from 1990 to 1999, Director of the Djajanti Timber Group from 1969 to 1976, and President Director of the Company from 1977 to 1993.